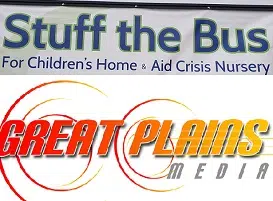 It's the 16th Annual Children's Home and Aid/Bloomington Crisis Nursery "Stuff the Bus" event presented by Paul Davis Restoration with Connect Transit, Amalgamated Tranist Union, Deer Mill Farms and Great Plains Media, our parent company. Together, we are teaming up to urge you to donate generously to the Crisis Nursery.
We kicked off the Stuff the Bus Event Monday and it continues for the rest of the week.
We asking you, if you are able to do so, to donate any childcare essentials they may have for families in need. Jeannie Higdon with Children's Home and Aid says your gifts during this event helps supply the nursery with diapers, formula, toys and cleaning supplies for the entire year.
According to Higdon, the top three reasons for a family to utilize this program would be homelessness, domestic violence or mental health, and if you're fleeing something you don't have time to pack all that stuff and bring it with you. Higdon adds that when the nursery is in use, Children's Home and Aid provides everything that a child would need during their time in there.
| | |
| --- | --- |
| Dates & Locations (10am-8pm daily) | |
| Monday, November 26 | Walmart- Greenbriar Dr., Normal, IL |
| Tuesday, November 27 | Walmart- 2225 W. Market St., Bloomington, IL |
| Wednesday, November 28 | Kroger- 1550 E. College Ave., Normal, IL |
| Thursday, November 29 | Kroger- 1550 E. College Ave., Normal, IL |
| Friday, November 30 | Walmart- Greenbriar Dr., Normal, IL |
| Saturday, December 1 | Walmart- 2225 W. Market St., Bloomington, IL |
Volunteer
We rely on 180 volunteers throughout the week to help us stuff the bus! Volunteers will greet and thank shoppers, hand out flyers and arrange items in the bus. Six volunteers are needed for each two-hour time slot. Bring your family, friends and colleagues!
+ VOLUNTEER