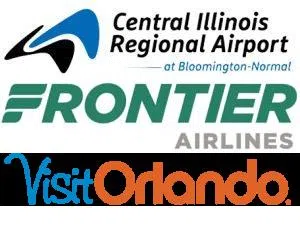 It all came down to a sudden death spin-off for a victor to emerge in our Uniquely Orlando Getaway contest with Cities 92.9, Magic 99.5 and 1077 the Bull!
Qualifiers for our Uniquely Orlando Getaway participate in a a draw down contest at Eric's Too in Bloomington Thursday night with the last ten qualifiers participating in a 3-round contest to collect beads.  Using a spinning wheel, contestant could either win 1,2 or 3 beads or lose 1 or all of them depending on where the wheel stopped.
At the end of three rounds, 5 participants had tied with five beads each. During the sudden death round, the first two participants each lost a bead with one participant winning one.
It all came down to this final spin (CLICK FOR VIDEO).
Congratulations, to Tim Morgan, our Uniquely Orlando Getaway winner!
Tim wins a Uniquely Orlando Family Vacation courtesy of Central Illinois Regional Airport, Frontier Airlines and Visit Orlando. This magical family vacation includes roundtrip airfare with Frontier Airlines, eight single day/single park tickets to your choice of Walt Disney World, SeaWorld Orlando or Universal Orlando, a three night stay at an Orlando area hotel and a full size rental vehicle!