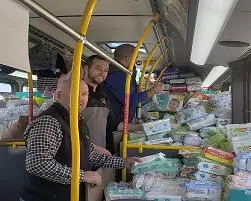 We won't know the numbers of items donated until the counting is finished in a few days, but it appears the donations are at least equal to last year when 4,778 items were given to Children's Home and Aid Crisis Nursery.
The week of collecting the donations was filled with weather challenges. Connect Transit Marketing Manager Jeff Holtke said, "Considering we started the week with snow and ended it with tornadoes, it turned out to be a pretty good week."
Donations of diapers, formula, wipes, clothes and toys during last week's Stuff the Bus campaign will be used to stock the shelves of the crisis nursery for the entire year of 2019.
Jeannie Higdon with Children's Home & Aid tells us that monetary gifts and gift cards donations added up to $6,026 whereas $4,469 was donated last year.
Stuff the Bus for Children's Home and Aid/Crisis Nursery is presented by Paul Davis Restoration and sponsored by Connect Transit, Amalgamated Transit Union, Deer Mill Farms and Great Plains Media Cities 92.9, The New Magic 99.5 and 107-7 and 92-1 The Bull.