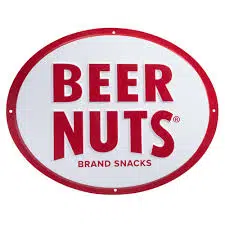 BEER NUTS issued a statement Thursday evening announcing its 2019 location changes:
BEER NUTS Brand Snacks, a staple in snacking and the local community since 1953, is announcing changes to BEER NUTS Company Store locations and hours of operations moving into 2019.  We have worked continuously to provide the most enjoyable and accessible snacking experience possible by making everyone's favorite snacks available for purchase across large-scale store fronts, BEERNUTS.com, BEER NUTS Company Store locations in Bloomington-Normal, online retailers, and many other channels throughout the United States.
As a part of this mission – and keeping in line with current retail and consumer trends – our company has made the decision to close our Shoppes at College Hills location on Monday, January 28th, 2019. In turn, we're updating our hours of operation at our primary Company Store location (103 North Robinson Street in Bloomington) to continue providing a local shopping and destination experience at the heart of where our famous snacks are produced to this day.
"We try to capitalize on sales and distribution channels with the most significant growth potential," said Andy Shirk, President of BEER NUTS Brand Snacks. "These channels have been, and currently are, e-commerce channels. The store closing will allow us to allocate greater resources and focus to support our accelerating online growth. We will still provide a local option at our original Company Store located inside our home office."
The Shoppes at College Hills location will be open to the public until Monday, January 28th, 2019, until 9:00pm with closeout sales. BEER NUTS Company Store plant location (at the corner of Washington and Robinson Streets in Bloomington) will  have new hours of operation taking effect Monday, January 28th, 2019, with the following changes: Monday–Friday open 10:00am–7:00pm, Saturday open 10:00am–5:00pm, and closed on Sundays.
In our 66th year, we look forward to perpetuating the growth we have seen over the last few years. We're excited for our future and the services we'll be able to continue providing our valued customers moving forward. Our dedication to producing our famous snacks in the Bloomington-Normal community will continue, with hopes you'll continue snacking with us for many more years to come.